Features
Better, faster, more sneakers!
👟
Releases
Every sneaker, every store - the Sneaktorious way.
🚨
Notifications
Notifications for restocks, releases and deals.
🤝
Membership
Store Alerts, Features and more.
Membership
An short overview about our exlusive membership
For a monthly 4,99€ or yearly 49,99€ subscription you can get features that give you a little extra. Take a look!
📲
Store Alerts
Get notified about new stores added for your favorite sneaker.
👀
Copy Paste
Faster store entries, with useful pre-filled fields.
🧭
In-App Browser
Open stores easily in the in-app browser. It couldn't be easier.
👟
Filter
See only the regions you really want to see. And many more!
✌️
No Ads
Enjoy the app without annoying ads and maximum overview.
The membership can be cancelled or changed at any time via your Apple or Android profile.
Still unsure?
Use our 30-Day free trial for new users!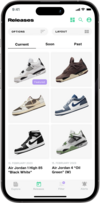 Need help? Questions about our app?
Be up to date!
Tired of taking L's? We feel you. But there is no giving up, take action! Download our app and sign up below to be the first to know when we have new upcoming features in our sneaker app. Free to use, many features and the best user experience to cop sneakers!